Discussion Starter
·
#1
·
Got out on the 26th for a couple hours at a near by pond around 3pm. The first 10 minutes I was there I hooked into a Nice bass on a Senko just dragging it really slow on the bottom. I set the hook so damn hard on this fish. He was in a couple feet of water, His head came out of the water and the 4/0 Gama hook just popped out of his mouth! :x She was around 3-4 lbs. I was so angry I just dropped my rod and ofcourse was dissapointed and i grabbed my head looked down and shook my head in shame since I wanted my first open water bass of 2008 to be a Decent Bass... Fished for a couple more hours and ended up with a little Dink. I tried jerkbaits and a baby 1 minus with not even a strike. "I should have tried a rattle-trap" :?
Today, 3/30 Report. I got out to the pond by my house and was angry at what i saw... About 10 dead bass all from about 15-19 inches. No crappies or bluegills. Those actually got killed off in the fall from a chemical that was put in the water. I also noticed a Hose from the associations pool leading underneath the fence into the pond :shock: . I took the hose and whipped it back over the fence. This Pond has just gotten ruined over the past year. Especially all the garbage in the pond, It disgusts me. I tried 2 different jerkbaits, a ratle-trap, and even tried drop shotting a Robo-Worm with no avail. Oh yea, I even tried crawling a Jig n Pig along the drop in an area. Not even a bump. I took a picture of one of the dead bass. It's ashame to see bass this size dead. But thats Nature for ya... I will try it again tomarrow evening.
Dave
The Little Dink that got on the 26th...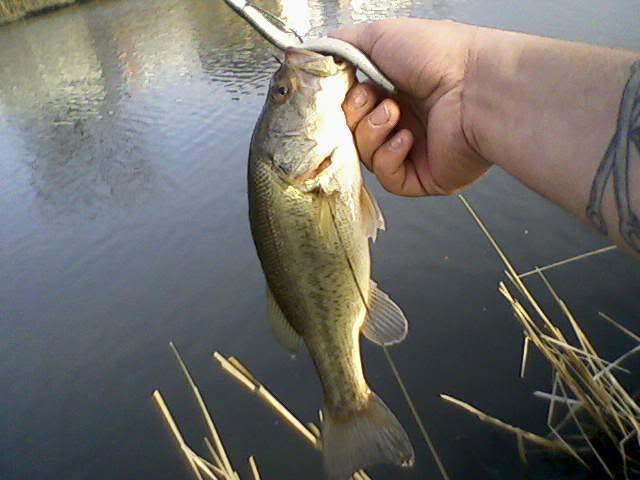 Then the fish kill at my Pond, what a shame...