Discussion Starter
·
#1
·
We got on the ice around 10pm and fished until 10:30am. The action was steady at first with the crappies. Rob ended up hooking into a nice big fat cat once the crappies started to turn off. Theres a reason for that
. So robs fighting this cat and he gets him to the hole and after finally grabbing him after all the runs he kept making. I reach my arm down the Hole Gill him and I say to Rob. Dude!!! This fish will not fit thru the hole! :shock: LOL So after wedging him around a little bit. I was able to pull him through. We estimated him around 12-14lbs. He was fat! I had all big baits on my tip-ups and had about 5 or 6 flags through-out the day. I was using 8-10 inch smelt. All the fish dropped my bait after they felt the tentions. I am goign to get rid of the quick strike rig and try something else. I think they felt the hooks. But all I caught was a bunch of crappies and 1 pike. My buddy Josh caught some pike and bass, he did catch a catfish on my tip-up though 8) But Rob just kicked ass out there and was nailing a bunch of Snakes (AKA. LIL PIKE) on his rod and slamming the bass on jigging spoons. This year has been amazing with the ice conditions. I took a picture of the auger in the ice to show ya how much we have left
I am heading back out in 2 hours for another morning bite. All I want is a 40" inch pike. but I think this pond is just loaded with a bunch of hammer handles. It's been tough this year for me. Hopefully I can pull it off tonight. Im gonna try bigger baits on my tip-ups and a different rig' 8) Take Care Guys and Have Fun Fishn'
Sorry theres no pics of me with any fish. LOL I'm still waiting for that Monster Pike that I know is around somewhere.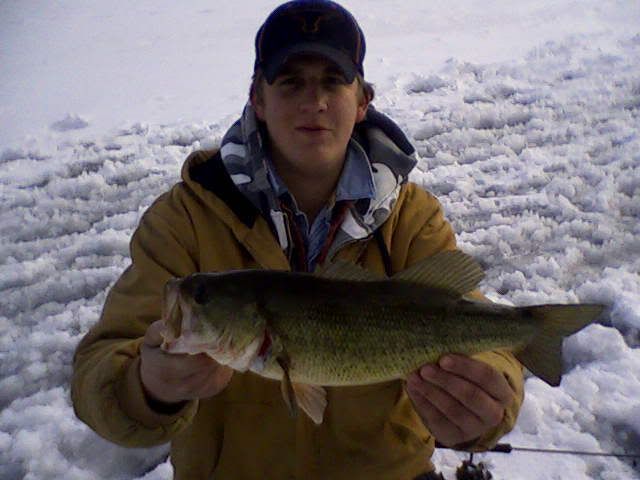 It was Dark out, so I tried to brighten up the pic on the computer. Thats the best I could get it at.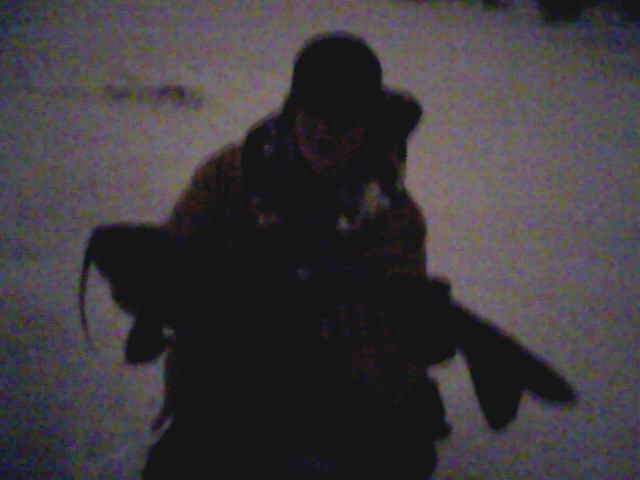 PS: I heard Bangs is hott with tip-up action for pike right now...
Dave