Discussion Starter
·
#1
·
Yesterday's Coho session on the Chicago lakefront was next to disastrous with monster rollers and then a downpour that left me drenched. As I mentioned in an earlier post, powerlining was scratched for today.
And... I slept in on Sunday, which was fantastic.
But, could I manage a weekend with such limited fishing? Of course not!
Rootpro gave me a call this morning and kindly invited me out to join him on the Root River, to which I gladly accepted.
Upon arriving, Rootpro hooked into a spawned out, hen. Finally! A fish! I had taken a couple scouting trips in late Feb / early March without a fish successfully landed. Rootpro had given me hope!
Soon after Rootpro got his, I hooked into a pretty brown hen that gave me a good battle after shooting down stream. What a great fight and what a beautiful fish...
About ten minutes later, I hooked into another fish. Another awesome battle followed. This Steelie went airborne a couple of times and had my drag screaming.
Shot 1 -
And this was a pretty cool shot as well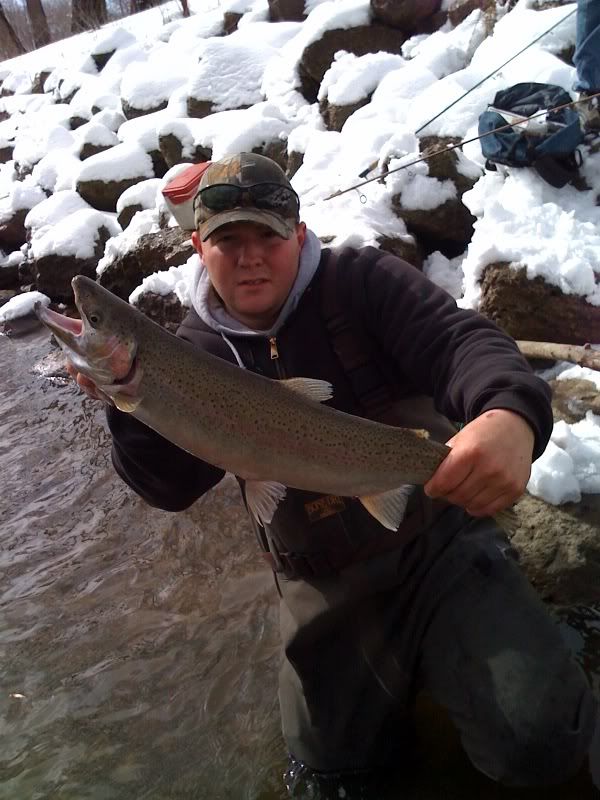 Rootpro then hooked into a huge steelie that took a shot up river and went airborne and spit the hook on him :x
So in all, not a bad day. Seemed like the action picked up when the sun poked out of the clouds. If the rains aren't too bad this week and the Root has a decent flow, I might give it another shot; otherwise, I'll be back on the lake front powerlining.