Discussion Starter
·
#1
·
Mark (Mops7) and I hit the road early this morning to do some fishing in our favorite SE Wisconsin Lakes. I left from Aurora and Mark from Carol Stream around 430A. About half way there I notice that the wind is almost dead so I call Mark and tell him Geneva will be the starting place. Mark got caught in some lap traffic and I had the boat idling at the dock when he arrived. Having been out with a John Trossen a few weeks prior, I was confident we would get on some fish. About 3 hours later and no fish, we decided to come in for a pit stop. After getting 2 right side tires only, we accelerated down Highway 50 and it was green flag time for Delavan. We started in the channel and Mark lost an unknown fish on a spinnerbait. The caution is out, so we slowly head to the next spot and guess who we see??? Eric Hatadja and John Gillespie shooting an episode of WI Water & Woods. We keep a distance and watch for awhile. Eventually they cruise by and shoot the breeze. I seem to run into Eric quite a bit, but I won't complain. If I am in areas that he likes to fish, I could be doing much worse. Even more impressive, the camera man knew my name and had read some of my Delavan reports. Maybe one day he will film for me. Yeah, right
Anyways, I raised a mid 30's pike in the general area but that was it. We decide to jump out deeper but we can still hear John screaming and hollering every time someone gets a fish. It was actually starting to get to us. Gillespie seemed to mocking us with every hawg. Get the Frabil!!!! Taking that lead we decide to mimic what they are doing in a similar spot farther down the lake. If you can't beat them, join em. I definity learned something new today.
Yum Dinger and senkos wacky rigged did the trick. Think Shallow, very shallow!!!!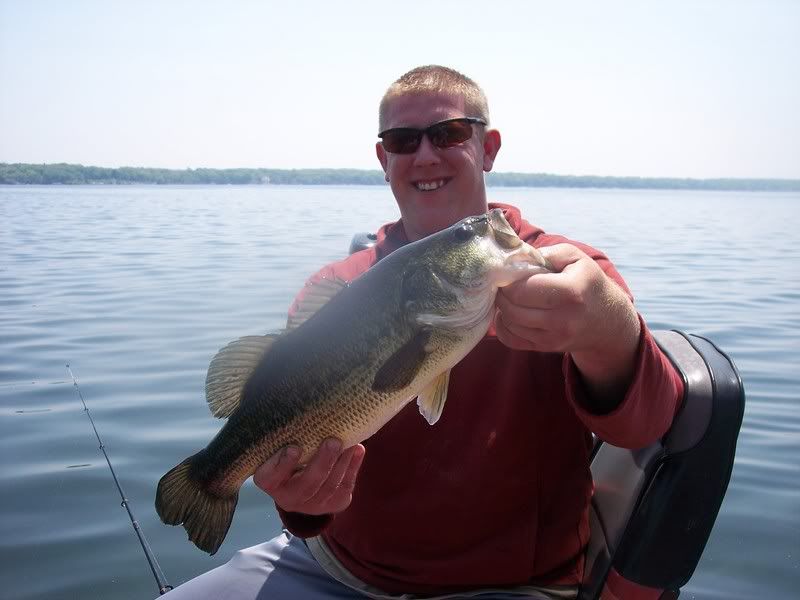 We ended the day throwing for pike with minimal results. We decide to troll in and Mark took this pike on a KO Wobbler. I tried to tell him there were no Kings or Cohos in Delavan, but fortunately for him, he ignored my taunts and caught a hawg. No worries with the blood. A treble nicked a gill raker, but was carefully extracted by yours truly.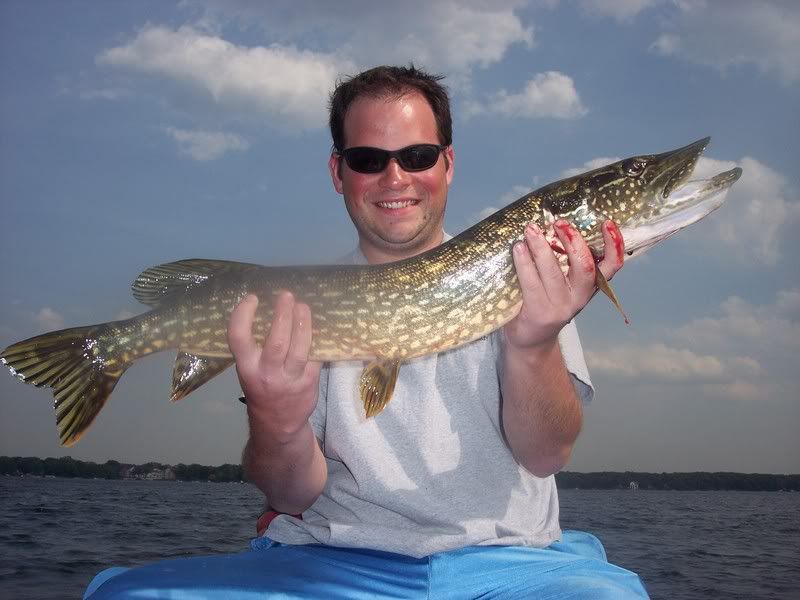 Around 5P the wife called and black flagged me, so it was time to take it to the garage and get ready for next week. Final tally was 20 bass and 2 pike. I wish we would of started the day at the Big D. Thanks for coming out Mark. It was a pleasure as always. Good luck with the new gig
BTW, if you don't watch Nascar you may be confused with the racing lingo. That is probably a good thing