Discussion Starter
·
#1
·
We woke up at 4A looking to get on Shabbona by the 4:45 bite. Lost car keys and a few other minor mishaps derived from being aloof and slow at 4A caused us not to get out there till about 6. After an agonizing long trolling motor ride over to the weedbed I wanted to start at, the buzzbaits started flying.
After about 5 minutes fish number one was in the boat
I saw a few random skies slamming the surface and got one to go, but she missed it completely. It sounded like someone dropped a bowling ball in the water, which was still kind of cool. Another short made it to the boat and we then switched up to soft plastics. There was lots of boat traffic in that small area so we decided to buzz out and go get some leeches. As we were tooling past, we noticed a bass fishermen hooked into something big. We stopped to watch and after a nice fight he landed a big ski. We were a little too far away to see what he was using, but he played the fish great and it looked like it was a hell of a ride.
After getting the bait we anchored on a weedline and fished slip bobbers. It was very relaxing and the bobbers were going down.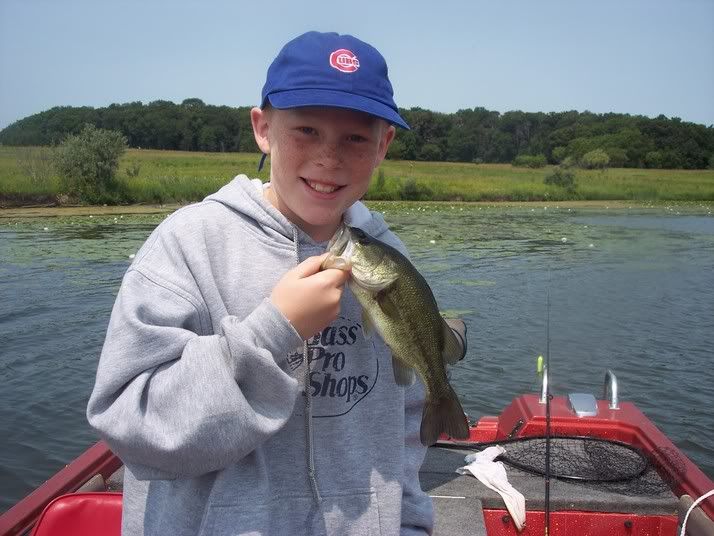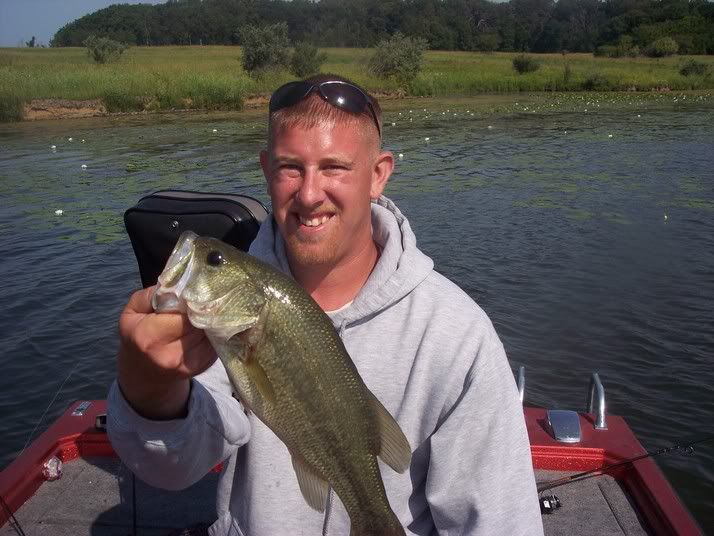 We went in and enjoyed a nice lunch a Pokanos restaurant and then headed back over to the same spot. It was a little slower, but we managed to get a few more.
On the way in we were tooling down the shoreline which was pretty much barren. We came upon a spot that had a small clump of lily pads w/ no other cover around. It was screaming for a buzzbait and I obliged and was fortunate enough to get bit.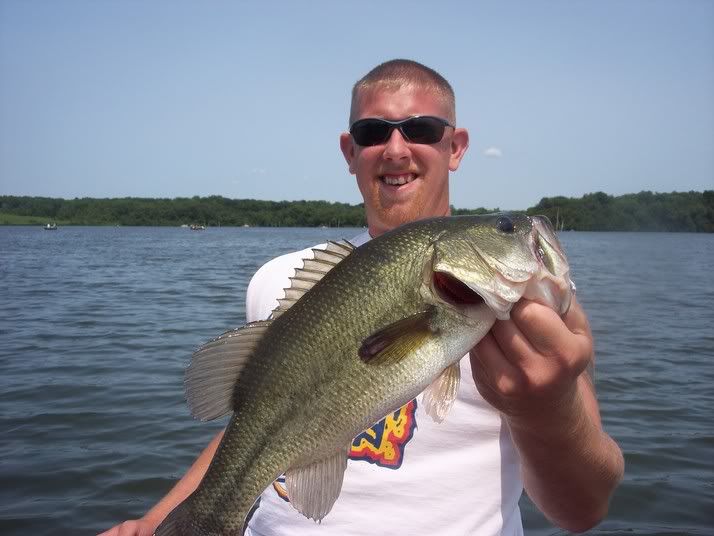 We ended the day w/ one more buzzbait bass. The final totals in my head went something like 14 bass, 1 cat, and a bunch of pannies. My nephew enjoyed himself, so that makes the trip worthwhile.
After dropping the little guy off I met some old friends at the Fox for some eyes. No eyes but we managed 4 cats in the last couple hours of daylight. I had a very strange encounter while wading. I ran into a mid 30's ski just sitting in some slack water. The fish was missing one eye and the other had a fungus on it. The fish was so beat up I actually reached down and gilled it and brought it up for a closer look. I am not sure what happened to this fish, but it is a shame, as I don't think it will survive :x