Discussion Starter
·
#1
·
You wake up at 4AM here the rumble of thunder. You check online and forcast predicts 90% thunder storms morning 60% by noon then gradually clearing thru the day.
Its friday the 13th...
DO YOU FEEL LUCKY PUNK?
Or do you do the safe thing and reschedule?
Well this was a trip planned with Mark a friend I've known for about 45years. Our best childhood memories involved taking risks.
These two PUNKS are going.
We drove in Shabbona State Park and got greeted by downed trees including 3 in the roadway we needed to drive around. Overcast with no rain launched at 6:45am..
We headed to NE Bay and Mark let me were his lucky hat on the drive..
Even though we new the Bass were probilly hunkered down we worked shallow weeded areas with topwater then worked a little deeper with spinbaits and chatterbaits with no luck. I then handed Mark a Blue Chrome Rattle Trap as we worked the 5 to 8 ft depth..
Well it didn't take Mark long to put his lucky hat and Mr Rattle Trap to work as he lands this nice FAT 35" MUSKY
Being his first Musky I thing it deserves a closer look...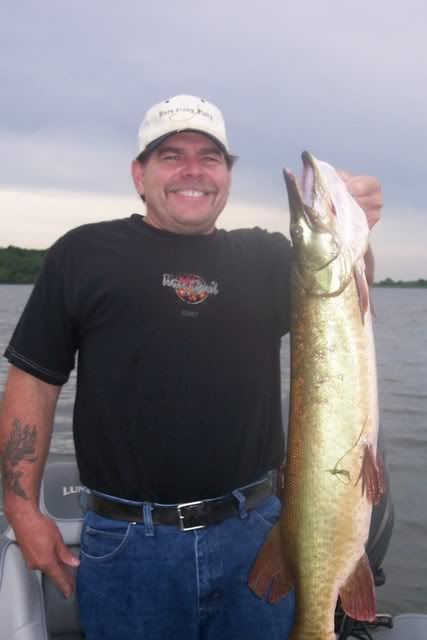 Seeing as it takes great netting skills and I was never getting my Rattle Trap back I took advantage of a photo op with my buddy's nice musky..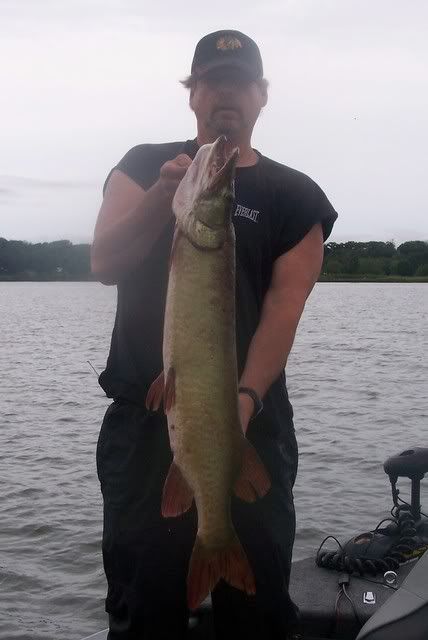 After the buzz wore off we continued working the area with out anymore luck.. With the NE bay muddy from the storms we decided to work the dam face with live bait. We anchored by the Damm and got into a bass bite taking leetches,crawlers , minnows and softplastics but all were 14 and under runt's. We ran the S/E corner the damm and worked our way to S/W bay. I was changing up with no luck while Mark picked up 2 runts and 2 14" walleye on his new Favorite Lure.
We took a break for Lunch and setup on a brush pile in S/W bay and did a little crappie fishing got about 20 or so
Then we decided to work area 23 which has a nice dropoff with the wind blowing into it. We were hoping do some walleye fishing and figuared the bass might be stacked up there. We picked up about 12 walleye in 20 FOW on leeches and crawlers best bite was on chartuce jig with leetch. Also picked up a varity of bass. Never got a keeper walleye but had a few 17" an inch short of the fry pan.
While the storms were a threat most of the day it was quite comfortable fishing weather..
Sometimes you take a little risk and it makes for another great memory with one of your best buddies. Even though I never got my Rattle Trap back and never got to wear Marks lucky fishing hat while I was actually fishing, I couldn't have been happier being on the boat while Mark got his first Musky...
NPIKE