Discussion Starter
·
#1
·
It had been about three weeks since I last got out fishing for eyes. Recent reports and pictures have been a reminder that prime time fishing was passing me by. With the cold stretch of weather, I was eyeing Sunday as the night to get out. Air temps in the 40's made for a pleasant night with no hassles of frozen guides. My friend, "Dirt" came along as he knew the possibilities.
Here is Dirt with one from three weeks ago. Yes the stringer was there as I asked him to keep one for me. First Eye kept all year in Illinois, my wife asked for one and I do like to eat fresh fish. The rest of the pictures are in the dark so I thought I would add one from an overcast day.
Although October was consistent with a few walleyes each time out, late November has always been better. Night fishing in the fall means minnow style crankbaits, long and skinny ones. We use Xraps, Rebel minnow, floating rapalas, and others depending on wind, current, depth, and other factors. Hard bottom gravel areas adjacent to current are what we target but normally there is one other factor needed to hold fish. It could be where the current bends, a hole that is a foot or two deeper than surrounding area, a wash out area or even weeds.
Started at 5:30 pm. The first spot was a small hole about 4 feet deep maybe a 1 1/2 deeper than the surrounding area. First two casts produced fish for me.
Here was the first.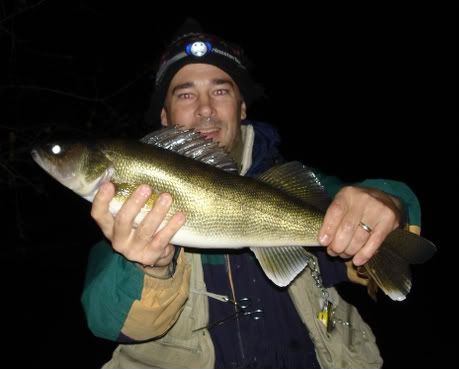 After pulling three out of the hole and getting no more hits, we let this small area recover for later and heading for the next spot.
This is a spot that has current close to shore and a bend in the river creating a nice eddy.
We caught 5 or 6 smaller ones mixed in and around 8Pm we decided to try the hole one more time.
I missed one that felt big as I was more concerned about my position in relation to the hole and spaced out as my pole bent over. Thankfully, I got a second chance.
Several hard runs and a lot of head shakes made for a nice battle.
There are many places in Northern Illinois that must hold monster walleyes; Desplaines, Fox, Rock, K3, Pecatonica, and the tribs of these rivers are all good places to search. It hard to find cold season night spots but once you do the fishing is very easy and very enjoyable.
Q