Discussion Starter
·
#1
·
Our group just got back from our annual fall trip on the Turtle Flambeau Flowage. This marks our 34th year on this beautiful body of water with many great memories winter and summer. The Flowage has changed through the years with less stumps and more rock bars as some smaller islands have washed away. For the most part, it is as magical and rugged as it was all those years ago with good fishing, wildlife and nature abounding. I do miss the "root beer" colored water, as the stumps have diminished through the years the water color has changed a bit. It now has more of a normal lake water color. The fishing has fluctuated through the years. There were periods when the average walleye was 15-18 inches, other times when 20-22 inch walleye were caught in good numbers. A few years ago the catch sizes were smaller but this year they seem to be improving on all species. Walleye sizes appear to be increasing with some mid to high teen fish available. The crappie and perch sizes also seem to be increasing after some new regulations by the DNR. In years past, you could keep 50 crappie, 50 perch and even 50 bluegill. There is now a 10 inch minimum on crappie and anglers are allowed 10 in aggregate per day. I believe the results are just beginning to show with some nice crappie and perch caught this trip. In past years, we didn't even think of keeping a perch or crappie if it didn't hit 12-13 inches but those fish became scarce. A couple of years ago we couldn't find a crappie over 10 inches. This year we caught many over 10 and some reaching 13 inches. Hopefully, it won't be long before 14's and 15's are available in good numbers again. The smallies are still like footballs with many fish reaching the 20 inch mark and plenty of mid teen fish being caught regularly for those who fish them. Muskie are still strong with lots of nice fish caught. Our trip this fall consisted of myself & Mrs Spinner, Northwoods & wife Bing and new fisherman Tyler, and RSS & wife Corina made it for a few days before spending some time with family fishing the Holcombe Flowage. Tyler was a trooper. At only 2 years old, he spend some quality time on the water and caught his first rock bass.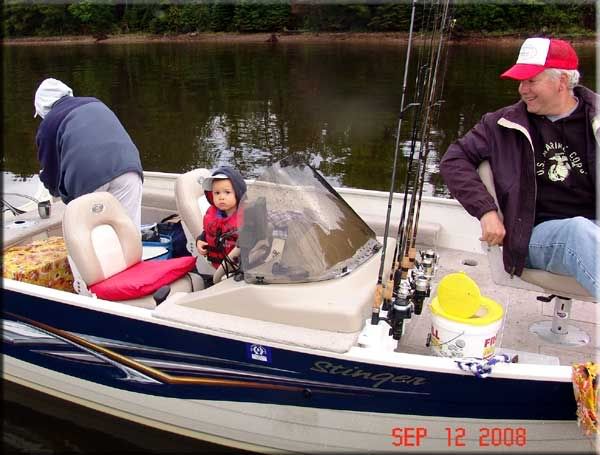 Water levels were down about 4 foot this year but not as low as last year. It was still low enough that many areas required slow travel as stumps are starting to show with many more just below the surface. Although stumps continue to disappear through the years, I find myself taking less risk and more time when traveling to our fishing spots. The last couple of years with low water levels, I have bumped stumps in areas I use to fly through which makes me realize how lucky I have been in the past not to connect with one of these prop monsters when I have been up on plain. It only takes on one stump to end a trip early or even risk life and limb. I see people ripping through these areas thinking they know the Flowage well but in reality, it shows they probably do not know it as well as they think. Even when following GPS Tracks, all you need to do is be to the left or right by 1 foot or 5 foot and risk finding that previously unknown stump location. It's just not worth it. Below is a picture of our bay showing the low level and some stumps that are starting to show on the Flowage that would normally be out of site.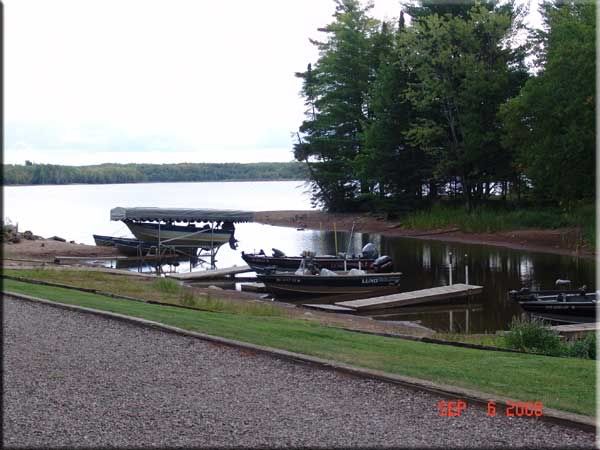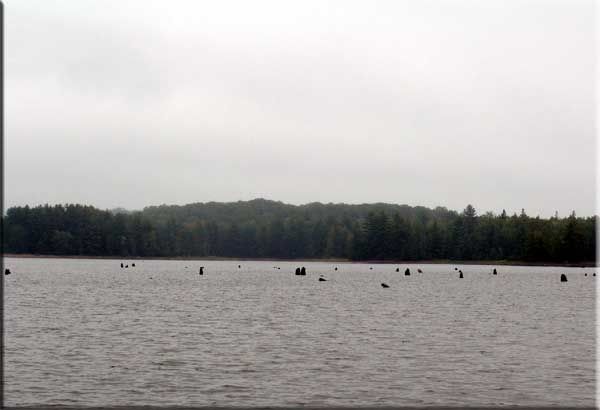 Weather was tough and changing constantly. We arrived on a cold front which dropped air temperatures from the 90's prior to our arrival down to frost warnings in the evenings within the first few days. Water temps dropped quickly from the low mid 70's into the low 60's within a couple of days. The winds were manageable though allowing us to downsize our presentations to help battle the cold front conditions. We did get out Saturday evening for a couple hours coming up with only one fish, a small Musky that bit on a 1/16th jig and small fathead. We new we were in for a tough couple of days until the weather would stabilize.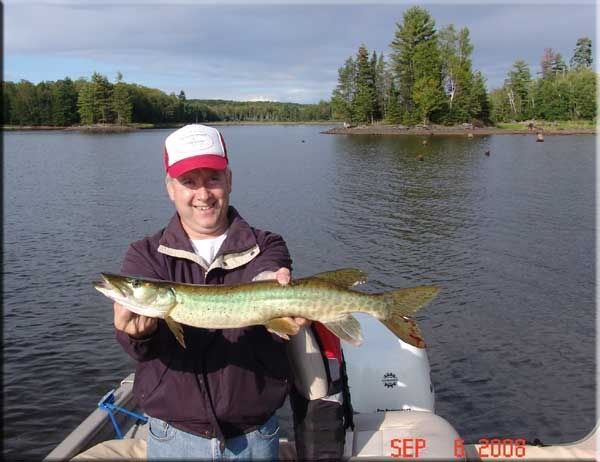 The whole week brought the same fairly unstable conditions with some sun but mostly cold fronts passing through. Below is some pic's of a front passing and a nice rainbow. We were stripped constantly as fish were just nipping at our presentations. At times we added stinger hooks and went to the basics with a split shot and #4 Aberdeen hook but snagging up is a real issue with all the bottom structure. Through the week we caught fish in anywhere from 2 to 18 foot of water but could not lock in a pattern of consistency.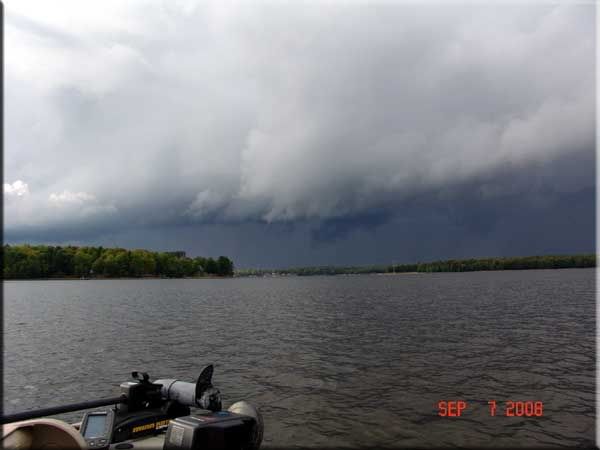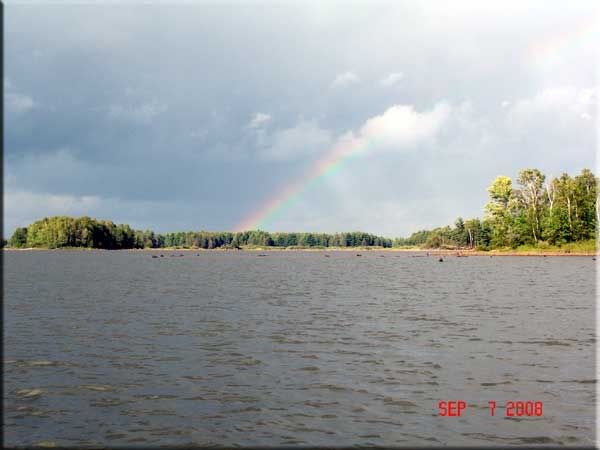 I had my doubts we could reproduce our 170 walleye week of June but hoped we could still boat some nice fish. Biggest walleye of the week was a 19 inch caught of a lay down stump in 2-3 foot of water. We pulled in three more at the same time and lost a nice one boat side then the bite stopped. This was the pattern all week, a couple of fish here and there but really had to work for them. The crappie and perch bite made up for the slow walleye bite with many nice 10-12 inchers caught through the week. Smallies were fairly active the first few days but then slacked off.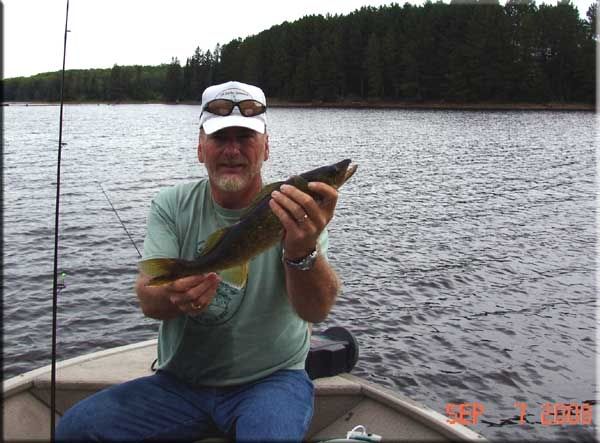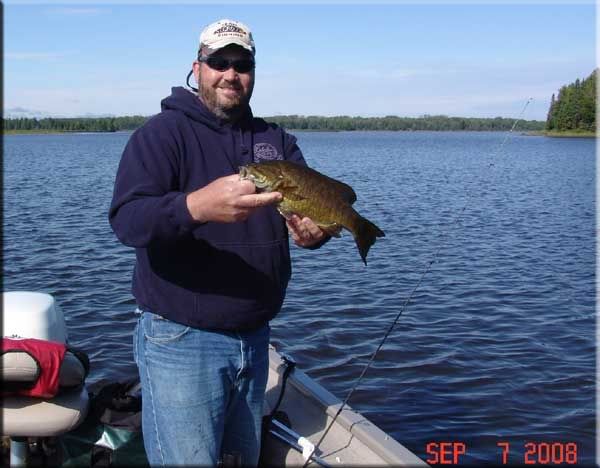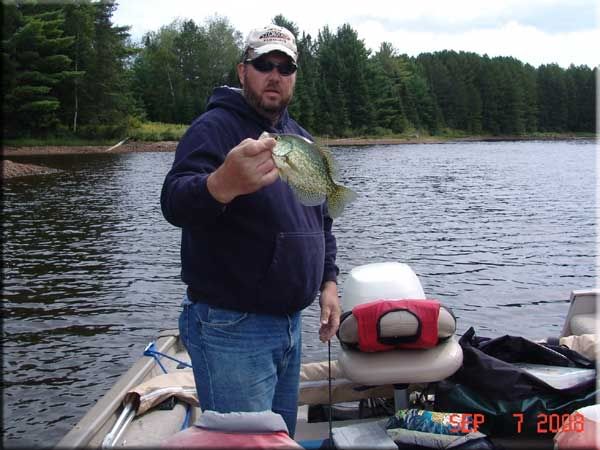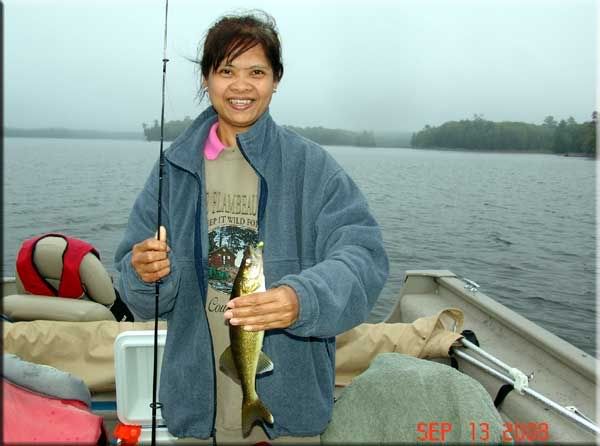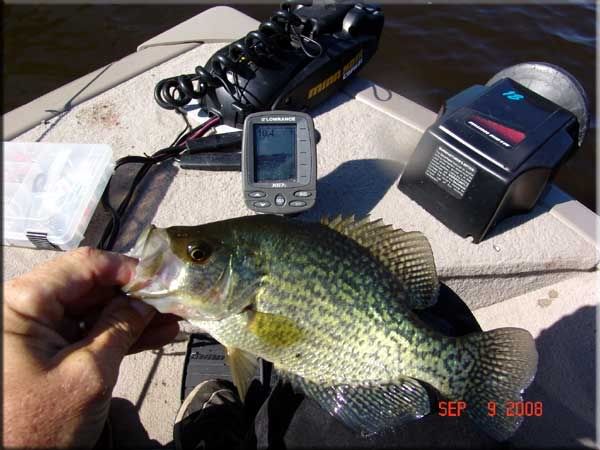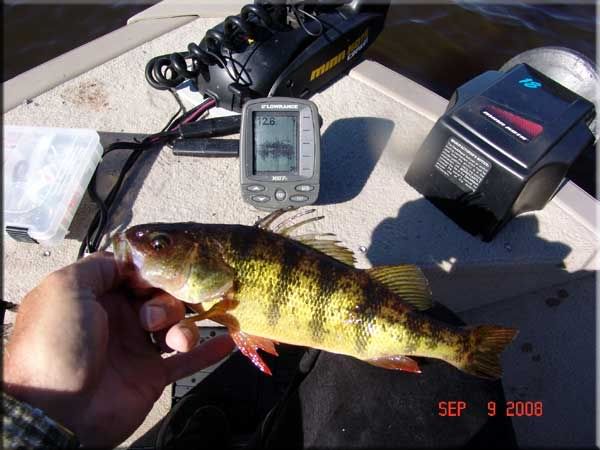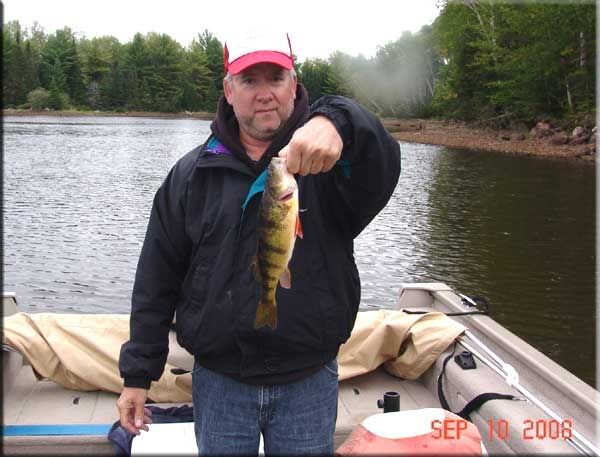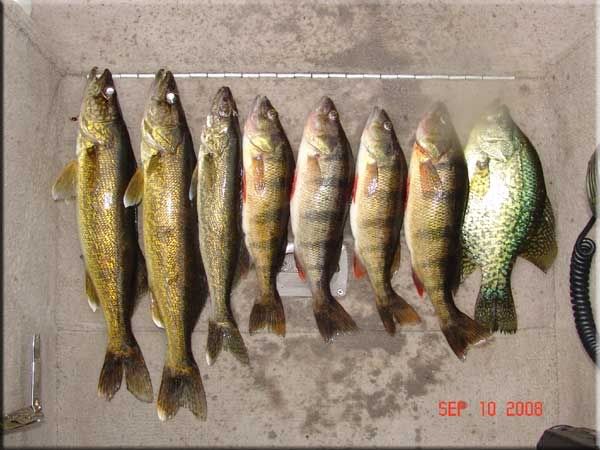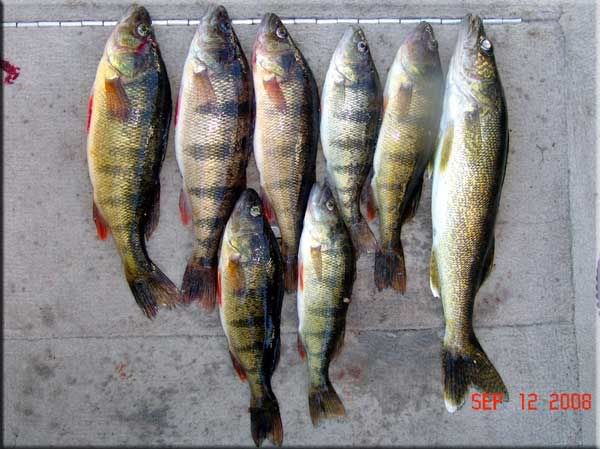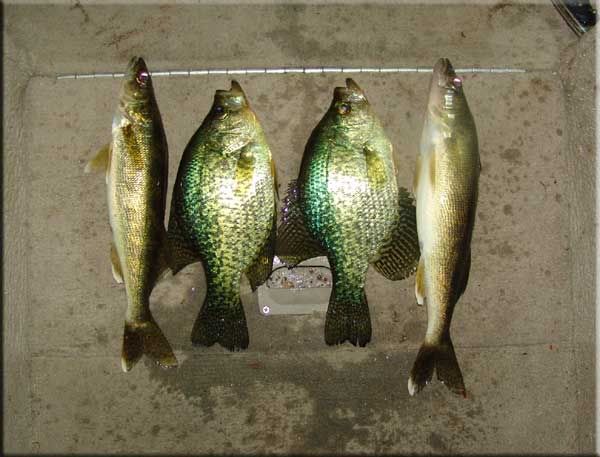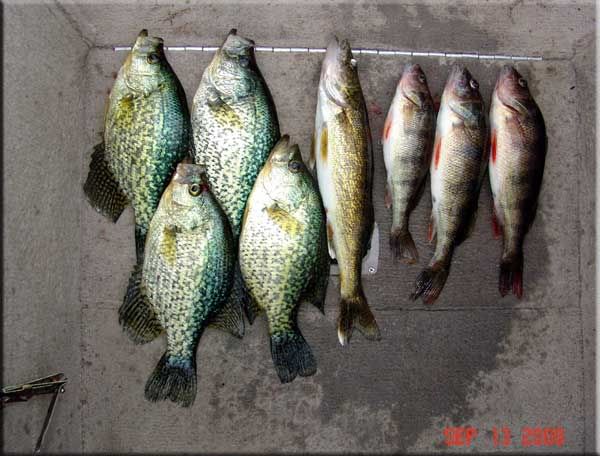 Wildlife always makes the trip more interested. I don't think there has ever been a year that we don't confront a new critter. This year we just missed a deer that was entering the water to swim to another shore. I remember back in the 35mm days, by the time you put on the right lens, set the camera up for the shot, the opportunity passed. Other times the camera just isn't in reach to get the pictures you want. Digital camera's have made it so much easier for those of us with limited camera skills to get some nice shots. Below are some pictures of a Bald Eagle on a rock bar. He allowed us get fairly close to get some nice shots.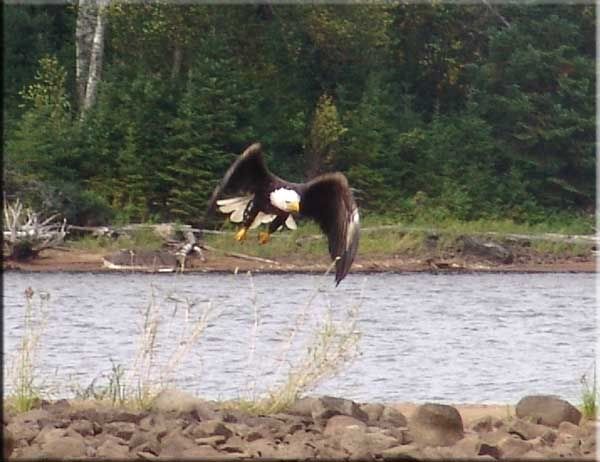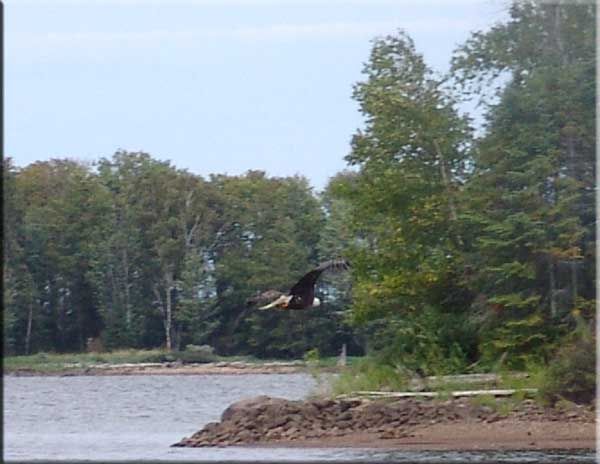 Another critter that got our attention while BBQ'ing by the cabin was the little guy below. He basically walked right up off the beach to the cabin. Although it looked very friendly and cooperative, we all scattered as none of us wanted to spend the next day in a bathtub of tomato juice. Later we found out that an older fellow at the cabin dumped his dead minnows next to the picnic table so basically, this skunk was just having a free dinner. Nothing goes to waste in the Northwoods.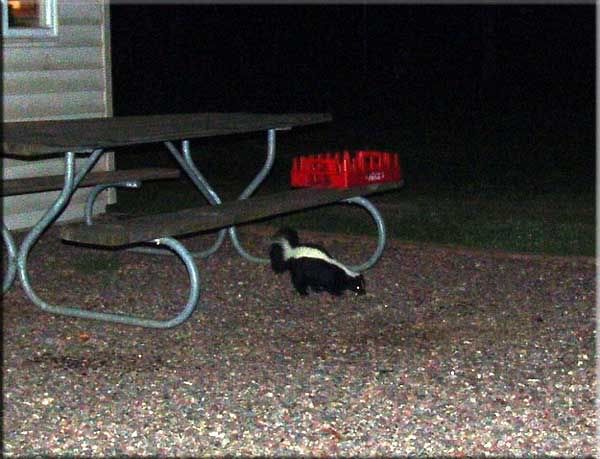 So, that wraps up our last trip to the Flowage for this year. Although we missed a day on the water due to hard rain and another day to do some traveling around with a bit of Casino fun, we ended up with plenty of fish. Too many Crappie and Perch to count. 23 walleye, one musky, many small pike biggest being 22 inches, a few Smallies and Gills, and 17 million Rock Bass give or take a few.
I want to thank everyone in our group for sharing in our fun and making new memories that will be cherished for all times. The Northwoods is a special place, a place that allows you to see nature at it's best and lower our blood pressure a few points. It gives us time to reflect on whats important to us, spend real time with our families and friends and realize how blessed we are to have these opportunities. 8)