Discussion Starter
·
#1
·
Well I don't feel so bad when I see only a few reports coming in and the majority of success stories being less then desirable. Although the temps were decent and the amount of sun was abundant....the fish were tight lipped. I went out Saturday to some not so local ponds to give it a shot. Ice reached depths thickness of 7-8" but the over all haul was short. Managed a couple of bass from one of three ponds we ventured to but nothing to get too excited about. I thought we were going to pound the bass but fell short of justified expectations.
I thought.....Sunday's gonna be the day, given the rise in temps that would cause the fish to move up a bit. Again headed out to local ponds that hold a decent population of crappies and largemouth only to be teased by the gills that never put off the feed bag. One lake I wanted to venture out to just to get some depth readings, didn't respond as expected. Given the slobs that I've pulled out of there in the spring I knew there had to be a hole that held them in the winter. The best I could mark was 5 ft. of water. Time was limited so I very well could have missed the mark but I drilled about 9 holes all the way out to the middle and only found a consistent 5 ft of depth. I marked fish but couldn't get a tip up to respond. I broke out the trusty waxies on a jig just to stir a bite and managed my fair share of gills right off the bottom. I bunched a few waxies onto a jig, increasing the offering and had something that nibbled and finally took the bait. It had some weight to it so I was ready for the monster crappie that has eluded me so far. I was pumped and not wanting to lose it I played it out and worked this guy thru the 5" hole.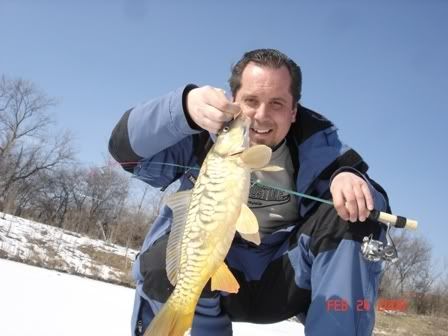 Always happy to get some variety I was happy with the response but was hoping for that crappie or bass. The area I caught him in seems to be a popular area for carp in the spring/summer so it didn't surprise me one bit.
After awhile I headed south to hook up with a buddy of mine to work another pond that held much deeper locations. We marked depths up to 20 feet or so but not much going on at the bottom. Although this helped in determining areas that might hold during the coldest of winter months we basically marked squat. We fished the drop off and humps and only managed some nice colored panfish on the humps on waxies. Towards the end of the day my friend wanted to set a couple of tipups(which til then didn't have a single hit) near the shallower edges that provided a decent size shelf that is probably active come pre spawn spring. At the very end when we were ready to bolt a flag went up and the spool ripped. I set the hook and managed this guy in about 6' of water.
Of course this caused us to reposition things thinking that the bass were already cruising the shoreline in this area. Those fish will drive ya crazy I tell ya. Unfortunately we couldn't get another to take the roaches we offered, finally causing us to throw in the towel.
If next weekend provides enough ice for us to walk on I'm thinking of focusing on these shelves and writing off the deep water for the season. No rhyme or reason, just some intuition that the fish may be moving out of these winter holes on the prowl for baitfish that seek out the warmer areas even tho they are still under ice.
Beautiful day on Sunday with an awesome sunset.....won't be long before we are peeling off the winter layers for spinning rods and artificials.
See ya at Bass Pro!
JB