Discussion Starter
·
#1
·
Headed out this morning at 6AM with Dan and his son Dan for some multi specie fishing. Primarily looking for walleye and Bass. The day started slowly on the north river. Although we had overcast skies with little wind, the bite was very slow with jigs/crawlers and minnows and a single drum caught. We decided to head down to the Pistakee Lake area but could only muster a small walleye on a 1/16th jig tipped with a minnow a couple drum and a small channel cat. We did get bit a few times but in general the fish were not aggressive at all.
We headed to Fox Lake finding it void of any fisherman. I figured we could really work this area well and pick up some nice fish but again only a single walleye, couple of perch, a drum and another channel cat.
OK, a change of plans, we headed to Channel Lake which did produce three bass. One not worth a picture but two were not bad.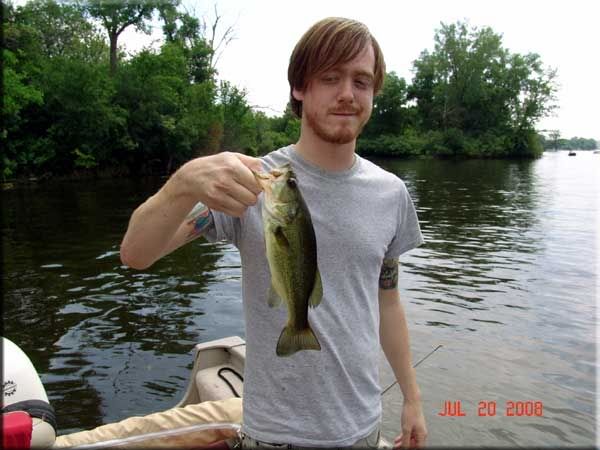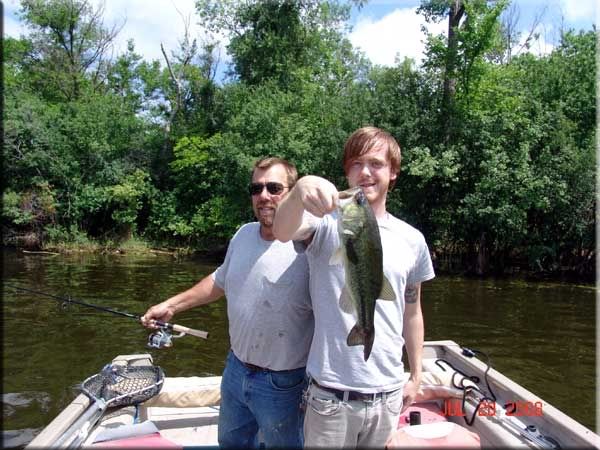 Boat traffic was picking up and I figured the walleye bite would turn on but not today. We headed south into Marie and trolled some crank baits and thought we hooked into a real nice eye but it turned out to be this ugly smelly thing they call a Muskie. ( CHILL ..just teasing you musky geeks)
This guy looked like he was through a war. Scars on his sides, back, holes in his mouth from prior C&R's and a very bloody looking tail. Even with his battle scars, he put up a very nice fight and it took me 4-5 times with my rubber walleye net to finally flip him in the boat. We got our picture and released him fairly quick but he still struggled for awhile keeping himself upright, then finally got his bearings and headed towards the bottom. ....... AND YES, this fish was caught on 6lb test if any of you remember that crazy post.
Anyway, we continued to troll and finally got into a nice 18 1//4 inch walleye.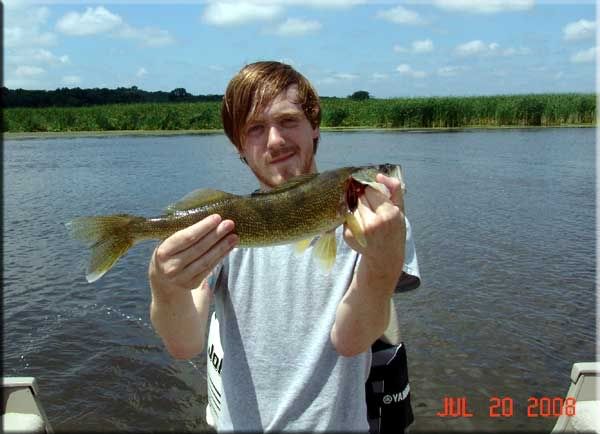 Dan and Dan had to get back to the launch but I had an itch to stay out, so I dropped them off and headed back out giving the cranks another try. Bingo, a nice little 14 incher.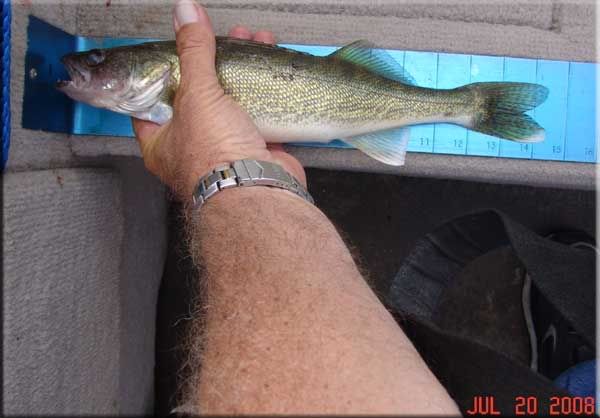 Got him back in the water and not a hundred yards further I pick up a nice 20 incher.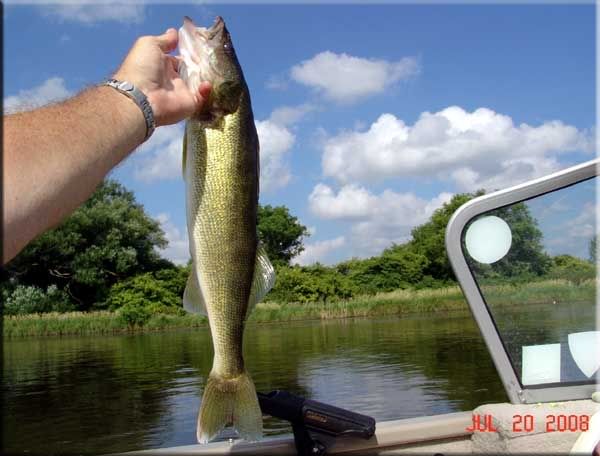 OK, this is getting fun, I run back south and begin my northern troll one more time when I hook into a real nice fish. I could feel the weight and it had the walleye pound and head shake. I'm thinking a fish in the high 20's. Boy I can't wait to see this puppy, but she took a dive below the boat and off she went. I never got a look at her. She didn't run so I know it wasn't a carp and she wasn't rolling like a cat. I really do believe I may have lost my biggest eye ever.
Well, thats fishing so I drop the crank back in the water and start heading back when I get whacked again, this one didn't have the weight of the previous fish but it still was a pounder and shaker. After loosing the first big one, I took extra care not to muscle her and got her in the boat. A nice 23 incher. 8)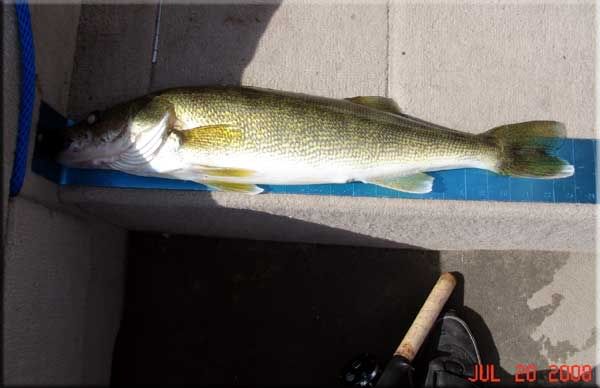 I was surprised at the slow action most of the morning then bang the bite turns on. The water temps were in the high 70's by afternoon and usually that really slows things down but here I am on a hot day, clear sunny skies, with warm calm water whacking some quality walleyes. Ya just never know from day to day. Actually, it's a good thing I brought some cranks along as the jigs just weren't the ticket today. :?
Unfortunately, my guests missed out on some of the hottest action of the day. I think we still had a great time and want to thank them for a very nice day on the water. Hope you were satisfied with our results.