Discussion Starter
·
#1
·
The last couple of weeks We've been able to squeak out pretty good days although the mornings have been slow. Unfortunately, the Spinner Boat was unable find a pattern to save us Sunday. The north river and the lakes were still pretty cool with water temps in the mid 70's but the level has dropped about 5 inches from last week. My guest Keith and I headed out at 6AM hitting the water with everything needed to chase down some decent fish. We fished the river early, then Pistakee, Fox, Spring, Channel, Marie then returning to the river at the end the day. We jigged, and trolled many different combo's in key areas but only 4 walleye were caught, none worth a picture. We also picked up one LMB, one ****** and one Channel Cat. My partner was ready and willing and picked up on techniques and presentations quickly but I just couldn't put him on any quality fish. Boat traffic was intense on the lakes and there was a walleye tournament which limited our afternoon river fishing as I don't believe I have ever seen the river so busy. I didn't count but I would guess there were 30-40 boats from the state park to the bridge. It's ended being one of those days I wanted to stick my head in my minnow bucket and breath deep !! :?
It's inevitable that these days will occur but that doesn't mean I have to be happy about it. It becomes a reality check, a time to re-think and contemplate your every move on this trip and future trips. We did miss a couple of nice fish while trolling. I swapped out my Abu bait casters for some new Pflueger Supremes which I must say perform very well but I had my drag set to tight on a stiff rod with Fireline and I could feel the first fish break free. Second hit was just one of those times when the rod dips, it takes drag, you feel the head shake and it takes more drag, then no fish. So it goes, a not so good trip for the Spinner Boat. The day ended at the Spinner Lounge for a cold one which tasted pretty good after our defeat. I want to thank Keith for his patiences and I hope I was able to help you with your Chain fishing in the future, and remember our fall trip. :wink:
Thank goodness for a nice day on the big pond with friends on Saturday. At least we got some griller's.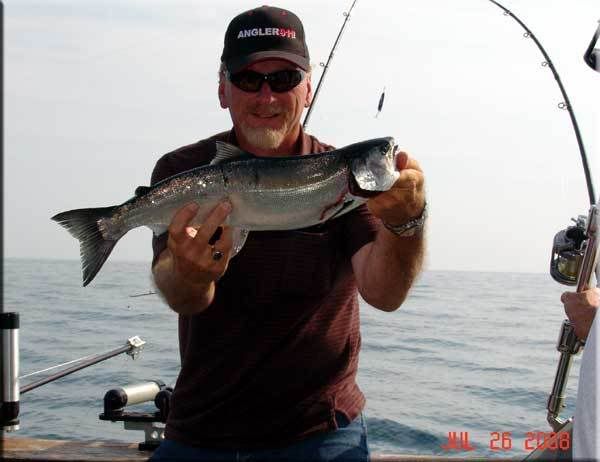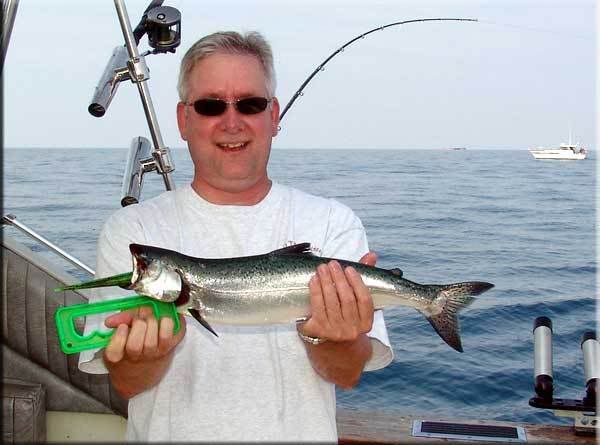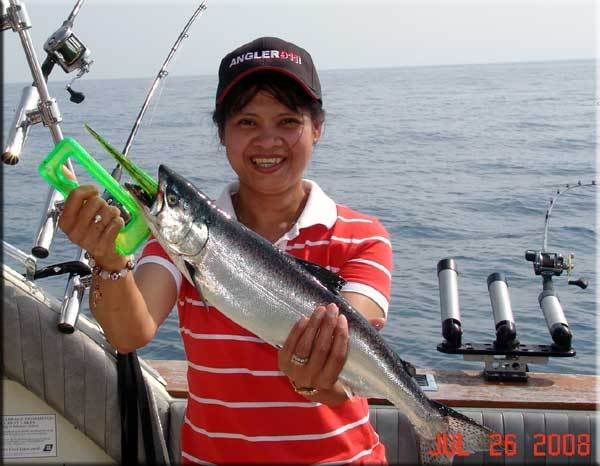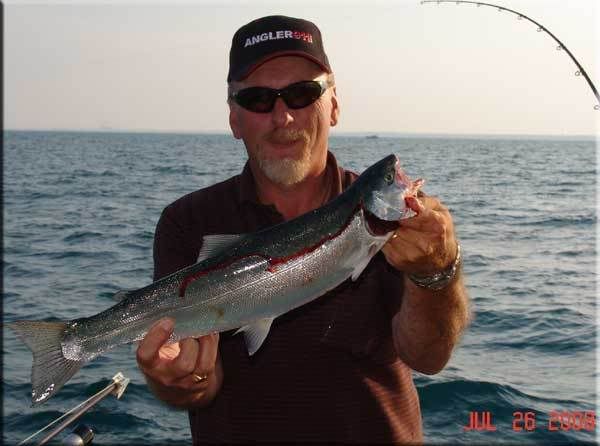 Thanks LK of Addictions Charters for a very relaxing afternoon and some tasty Salmon. 8)