Discussion Starter
·
#1
·
Headed out on the north river at 6am to see what action we could find. Water temperature was 78 degrees at launch with the normal rising mist. Got about a half mile down stream and was met by the DNR who stopped and checked us for proper equipment, licences and such. There are many state employee's that I don't enjoy talking with but I have to compliment the DNR and CPO's as they are in my opinion, the most polite and friendly guys/gals on the state payroll. After our inspection and friendly conversation, they moved on and we hit some bends on the river. Current is slow but water levels remain good. We drifted with small jigs, minnows and crawlers loosing one fish boat side but only short bites after that. The wild life was out in force with many of the normal birds presents.
Cranes on the river and Deer along the shoreline. This one watched us approach but then turned and slowly walked into the woods so I couldn't get a closer shot.
One of our first catches was an odd one. A softshell chasing a jig/crawler combo got hooked on the top of it's shell. It was not happy about being pulled from the water. Snapping turtles are known for their nasty behavior but this fella would hold a close second as it was biting and snapping everything in site including the net and the needle-nose pliers when unhooking him. Finally I got him loose and he wasted no time returning to the bottom.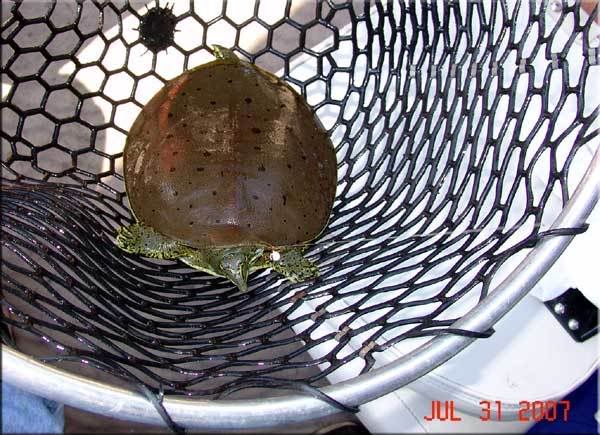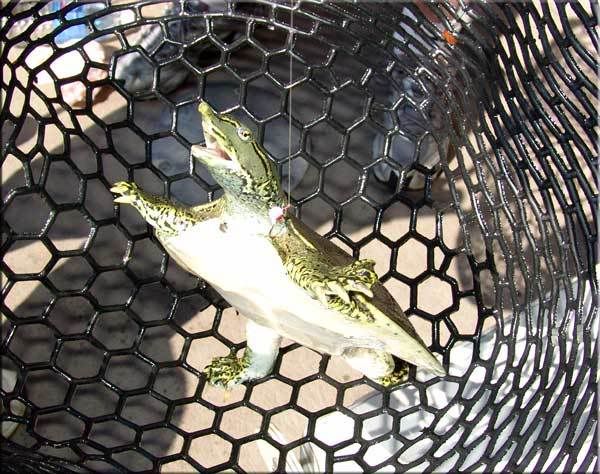 How was the fishing?? Pretty tough!! Through the day we boated 40-50 fish but most were medium size Blue Gills. We did get several walleye but not a single keeper with the biggest being just under 14 inches. In no time at all the water temps had climbed to 80+ so my plan was to find cooler water to fish. We hit Pistakee bay and fished 15-18 foot with slip bobbers and jigs but could not coax a bite and water temp was still 80+ so we searched out shaded channels that proved to be cooler water. We found some areas in the mid 70's and fished the deeper holes to get most of the fish.
John was able to catch a nice LMB at 15 inches that gave him a good fight and we also got a nice White bass.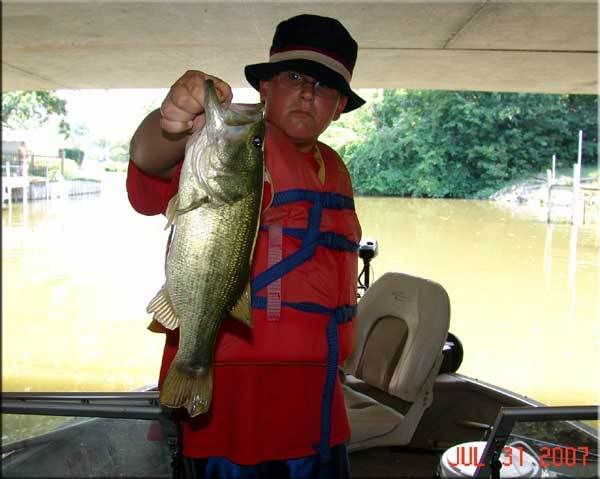 With the sun beating down with clear skies, the water warmed quickly everywhere. Below is my locator showing the water temp at 89 degrees by 1pm which basically shut down the bite except for more gills.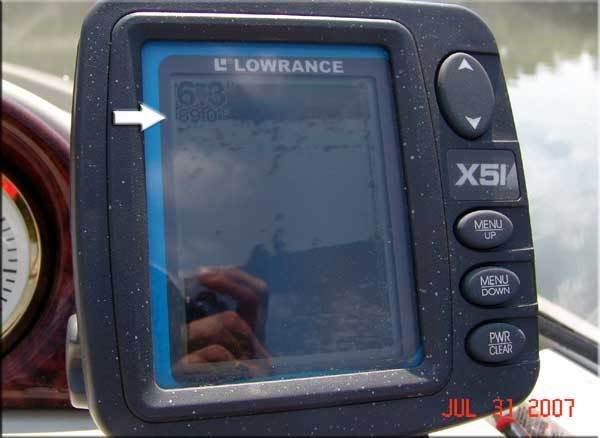 So, we headed back to the river and hit a couple more spots but no fish were caught. We picked up just enough for John and his father to have a fish fry.
I was surprised returning to the launch and seeing another Conservation Police vehicle at the ramp checking fisherman as they pulled out. That's the first time I've ever been checked twice on the same day. It's good to know that their keeping an eye out for illegal fish. Too many people out there keeping slots and short fish. Some not even knowing what kind of fish they've caught. :?
Thanks to Mike, Mike and John for spending a day on the Spinner Boat. Although the warm water slowed the bite, we were still able to find some action and see some wildlife.
Key to fishing in hot weather?? Get out early, find cooler water and be patient. :wink: