Discussion Starter
·
#1
·
4/19 -
Started the day powerlining on the Chicago lakefront with pals Dan and Keith. Overcast skies, a light drizzle, I thought for sure we were going get on some fresh spring coho. Upon arriving, the lake was very, very calm. Got two powerlines rigged up by 10 am and fished til 1:30. Not one bite!!
We had to regroup, and change scenery. The lakefront wasn't popping today.
After stopping for lunch, we got on the road and headed to Racine. Got lines in the Root around 4pm, which gave us a few hours to go after Chrome.
Water flow - 87 cfs
Water Temp - 49.5 degrees
Location - ?????? :wink: I will say this though - we were below the Weir.
I hooked into and landed my first steelie around 4:30. There was a DNR guy around and he took a look at my fish and took a couple of quick measurements. I didn't really get a great picture to show the body of the fish (which was more football shaped), but the DNR guy recognized a fin clip and identified my fish as an Arlee! My first Arlee! 25" and 6.5 lbs. Fish was CHROME!!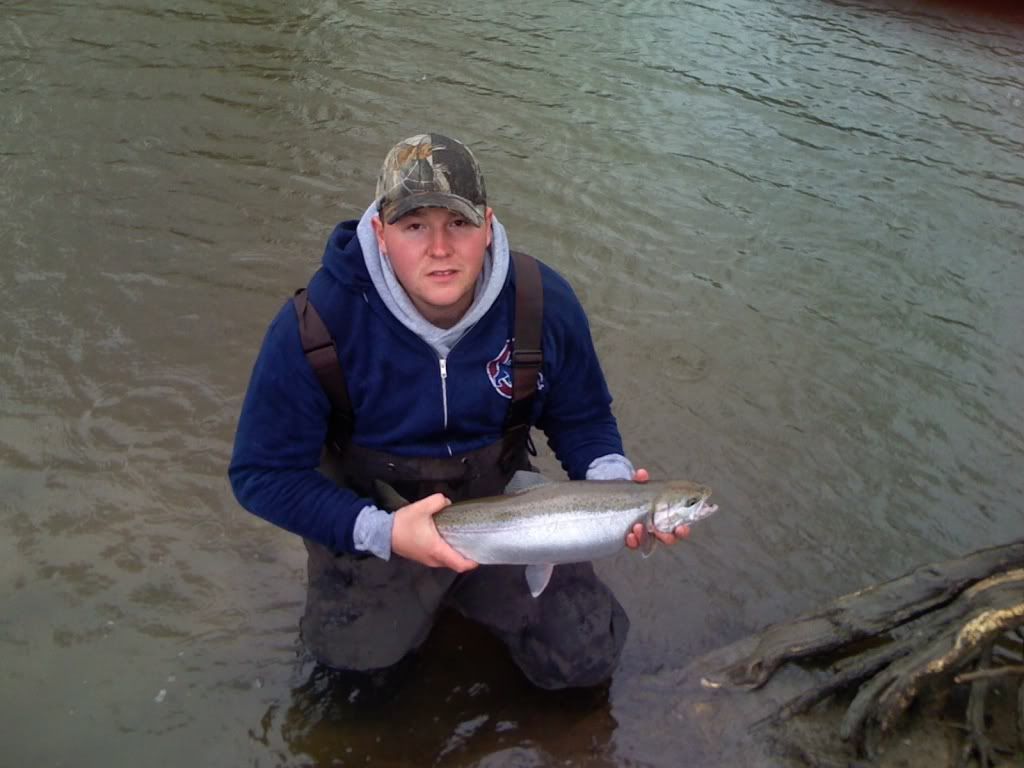 Keith hooked into a battle scarred buck shortly after.
We hopped around a few spots and saw some fish on their redds.
We popped into a couple, and Dan was still looking for his chance to battle some Root Chrome.
Then around 6:30, he hooked into a lovely hen. Nice work Dan!
While talking with the DNR officer, he mentioned that yesterday seemed to have been the best day of Steelhead fishing he has seen all season. I don't know how much the river will rise (and flush out a bunch of fish I'm sure...) but time is running out!
Mike