Discussion Starter
·
#1
·
Hit Shabbona Wednesday morning 8/27 with my wife and another couple was greeted by bluebird skies and flat water. With 4 in the boat we were pretty limited so we stuck to live bait presentations and focused on crappie. Margie got the day started with a typical crappie.
While we move around a bit and tried for other fish we found the crappie bite to be the most productive. Most crappie were caught in the deep trees in a water colume of 18 to almost 30 ft. we never got on a hot bite in a 3 of 4 ft range and had to adjust up and down that 16 to 30 ft range picking up one or 2 at various depths. Used slip bobbers and vertical presentation using crappie jigs or plan hooks tipped with minnows.
While the bite was never hot we did manage 28 in the 9 to 11 inch range that made into the cooler.
Ed and Kathy with the days catch
And here's a few in the sink waiting for Mr Rapala...
On a side note spoke with a few bass fisherman that either came up empty handed or with only a couple runts boated.
Last Saturday 8/23 got out with MRB Mixed it up with some pond action and local waters got 4 bass early in the day on a 4inch Wooly Curltail.
All between 16" and 20"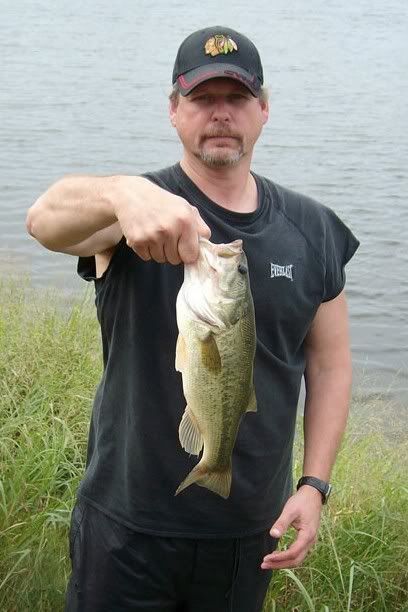 With weather improving we hit some local waters for some crappie action. In our first spot Adam picked off 4 or 5 crappie on consecutive casts just using a jig while I was still putting my first minnow on the line.
With Adam out fishing me 4 to 1 I had some catching up to do so I decided to double up on my catches.
With Adam outproducing me just using jigs, I decided to switch tactics and go baitless finding some success with an icejig tipped with a whitenail tail. If I had to estimate we easily caught over 50 crappie in the 8 to 9 inch range in the short time we were there along with a couple bonus Bass. While it was hard to leave a hot bite we decided to look for bigger crops. After hitting a few spots without sucess. Adam put us on some fish cribs that started producing some 10 and 11 inch crappie Adam lost a bigger one that we should have netted. I also had some excitement as a big fish took my bait for a ride. With the little cubby ultralight pole I couldn't horse him away from the crib where he found refuge and wraped me up good.
Just as the bite got hot on this spot it shut down as the sun peaked out for the first time.
That was our signal to switch tactics and do a little bass fishing. We picked up a maybe a 1/2 dozen or so 14 and under Bass with me being the main spectator watching Adam reel most of them in. With the sun heating things up we decided to call it the day. All crappie swam free this day.
Adam thanks for being my personal Guide on your local waters. Had a great time out there last Saturday.