Discussion Starter
·
#1
·
Been way too busy at work to post so here's a bunch of 'em condensed since I'm at work right now.
Fished a "local river" last weekend when it was still cold but all I could come up with were a few carp & a BIG flathead that broke me off, but I could think of worse things to do on a cold, raw weekend.
The weather started turning for the better mid-week so I returned to the "local river" looking for walleye, but I was greeted by "poor man's walleye" again, though a strange looking specimen it was...
Got into a school of white bass eventually & it was non-stop for an hour...
Lost a couple walleye next to shore at dark & called it quits.
Finally got the boat out Saturday on an "extremely local lake" for the first time. Did as much exploring/scouting as fishing since no detailed maps were available. Almost committed the cardinal sin of forgetting to put in the drain plug before launching, but a quick mind & strong bilge pump saved the day. Found a few nice yellow bass off a point on jig & minnow combos...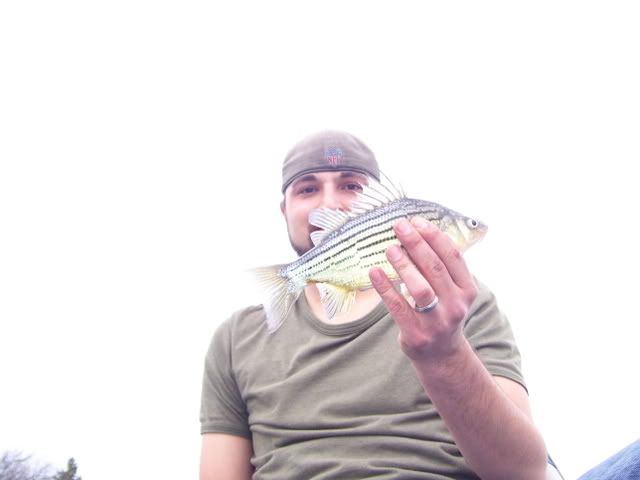 Drifted a saddle area between two islands and got a chunky 2 pounder on the jig & minnow...
Finished the evening casting spinnerbaits around downed trees and nailed two 3 lb smallies & a 3-4 lb largemouth within minutes of eachother...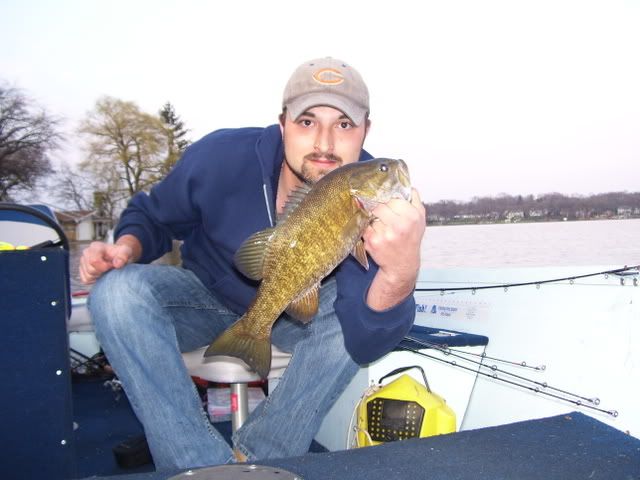 After doing some landscaping on Sunday, headed out again in the boat to fish & celebrate the "holiday." Marked a ton of fish & scouted some future spots, but only managed a small crappie. Got a call from the wife that she wanted to take a boat ride so I drove to the dock to pick her up & saw another familiar face. Danno hopped in the boat with us and we again pitched spinnerbaits/chatterbaits along wood-laden shorelines til dark. We each missed/lost 2 or 3 fish but Danno hooked up with a 5 lb+ beauty that I landed & handed off to Danno for a few pics...
Seems like I got quite the "local" fisheries at my disposal this season. Finished the weekend savoring my case of bass thumb. Until it heals, good fishing.
Alex