Discussion Starter
·
#1
·
Got out this afternoon with the intention of hitting a pond that has been producing the largemouth in numbers even at this time of year. Went over there yesterday and lost count on fish a buddy and me caught. On my way home I noticed a long body of water off the road and fairly secluded. Made a mental note and kept driving with the intention on hitting it later( I know most on this board can associate with that).
Drove on over there today with my ultralight looking for some crappies. Decent growth around this pond with lots of tall grass and reeds, perfect for crappie action. I was fishing with minnows off a small float and got a couple of bumps early on and proceeded to land a small bass. Skunk was gone but I wondered if this was just a runoff pond with little depth. Kept on fishing.....
Bobber down again and as I set the hook I felt a bit of resistance and the fight was on. Since I had the ultralight I played a game of tug of war and finally landed him barely. The hook was hanging on the outside of his lip!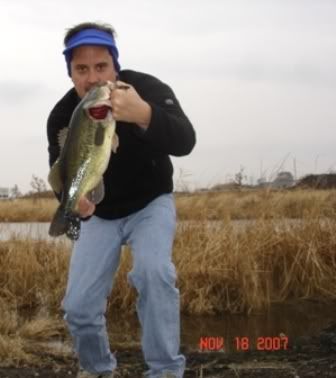 That had me stoked so I kept on with the fishing. Not long after I managed another decent fish that went right for the weeds. He was buried and I wasn't going to let him off that easily. I loosened the drag and put the rod down hoping he would undo himself from whatever anchored him down. Course my patience ran out and I managed to uncork him from whatever.
Before that I was seriously considering getting my waders out, then realized they were back at home.
Got him close to shore and he got hung up in the reeds/grass and I got a look at him. Piggy! I wasn't going to lose him yet.....so I eased into the water and as you can see he didn't get away but my feet were a bit chilled.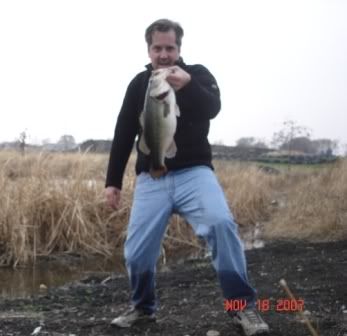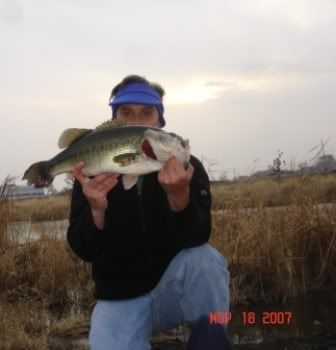 It was worth it. No crappie but I did manage half dozen bass or so with 2 decent ones. I walked the pond and did find areas that were deeper then then what I thought. All fish caught at about 2 1/2 ft. depth.
JB.