Discussion Starter
·
#1
·
Had enough of sitting around at the house the weekend beforethis due to crummy weather so I decided to try my luck fishing the crap plant on the Fox. Brought the waxies with me and headed out hoping to run into fish trying to find the warm spot. The flow was there but the fish weren't. I hung out like an idiot for a couple hours with the only highlight of the day below:
That and a few dink bluegill were all that was to be. I was kind of surprised given how cold it was out there. Rather disappointing.
I did make up for it the following day....sort of. Went up to the chain with some friends of mine and got on the ice. The channel we fished had about 4" of ice so we started out drilling a bunch of holes and working the waxies:
BTW, love the new rod.....no more breaking my freakin' back. Although I do have a crick in my neck from staring into the hole too long. Fish were sitting in a couple feet of water, mainly gills with the occasional crappie in the mix...some decent size to each....here's one my buddy caught: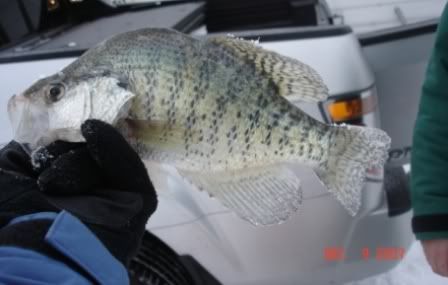 There were parts of the day where the fish were fairly consistent but then it would drop off and slow for awhile where none of the holes were paying off. Then it would pick up for a bit...we were off the ice by 3pm when the night shift came out. :lol:
Fish were to be had on teardrops, finkies, waxies and spikes. Managed to keep a few for the fryer: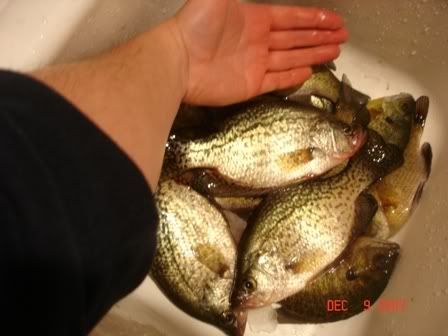 They tasted yummy with a bit of lemon and cocktail sauce.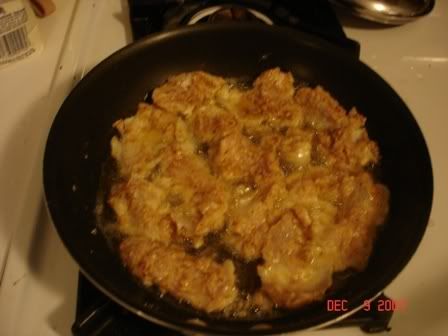 I'm hoping the temps provide a bit more time for the ice to thicken. There was enough ice in the channels but it would be nice to venture out a bit further with the tip ups. Maybe next weekend! :wink:
JB