Discussion Starter
·
#1
·
So decided to get in another trip in before my wife and i have our first child. This time of year is typically suspect when targeting flats fish. However it turned out to be one of the BEST fishing trips ever. Started out friday not even an hour after i landed we were out on the water. Had trouble finding bait but once we did we headed to our spot and it was game on. We caught numerous snook and ladyfish (on white bait and small chunks of ladyfish).
The next day went further north near Tampa to try our luck there. Once again we got on snook but on the smaller size. We managed a few keeper mangrove snapper (sorry no pix), several slot sea trout, lady fish and a real small goliath grouper. Sunday my brother in law and i decided to head back to the spot we hit on friday using his canoe. Got there a bit early as the tide was not perfect so tooled around a bit. Got back there and another boat beat us to our spot so we set up shop on a sand bar across from them. Immediately they were all over the snook. Massive explosions on the water with schools of snook blasting bait fish as well as the birds diving and occasional osprey diving in as well for a meal. The night time bite was non stop action. Had numerous over slot snooks on a couple which snapped us off and we were using 40# fluoro leaders!
Anyhow here are some pix. enjoy.
A few undersized snook (slot is 28-33" so anything under or over has to go back)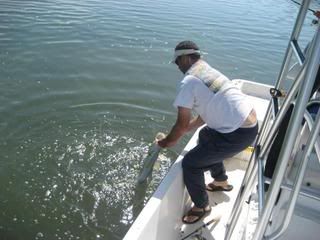 A perfect 32.5" keeper snook (limit 1 per man)
28.5" 30.5" 32.5" Snook
Goliath grouper baby (formerly know as a Jewfish)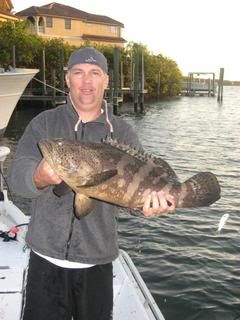 A nice 23.5" GATOR trout for the pan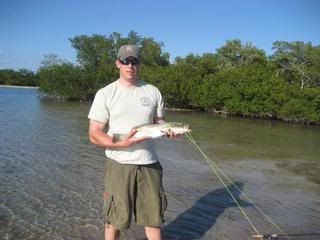 26.5" Redfish (sorry Geo dont see the similarity)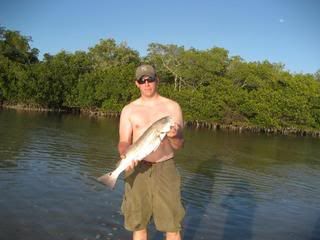 30.5" Snook completing my first ever Inshore slam in 1 outing.
And some interesting friends met along the way